Great Downtown: Downtown Historic Flemington
Historic Flemington Borough, Hunterdon County's beautiful county seat, offers an exciting crossroads for commerce, agriculture, and the arts, where over 65% of our borough is on the National Register of Historic Places. It has grown as a regional destination with more than 400 businesses, including 50 restaurants, boutiques, a busy craft brewery, a year-round Saturday Farmer's Market, art galleries, and over 90 health, wellness, and retail businesses. In addition, the downtown boasts several antique shops and bookstores and is a boutique shoppers' dream, with fabulous finds and friendly business owners. Entrepreneurs under the age of 30 are the owners and operators of many recently opened businesses. The borough attributes this trend to the affordable nature of available retail and a widely shared desire to invest in the community.
The Flemington Community Partnership (FCP) is the borough's Business Improvement District (BID) with a mission of fostering a thriving business community. Most recently, the FCP received a Neighborhood Preservation Program grant from the New Jersey Department of Community Affairs for the South End District. The NPP funds will enable the BID to focus on creative placemaking and a sustainable arts and cultural district.
Flemington is a progressive and growing town that embraces responsible growth and is ready to support new investments, including the transformation of the Union Hotel featuring the preservation of the hotel's historic façade and a new 85-room facility, plus 206 apartments and two restaurants with liquor licenses.
Additionally, the Liberty Village Project is another promise of significant growth with plans to transform the former outlet mall, which has run its course, into a new tree-lined neighborhood. This mix of multi-family residential and townhouses will accommodate many incomes and household sizes and add to the vibrancy and walkability of surrounding commercial areas, including foot traffic to the downtown.
---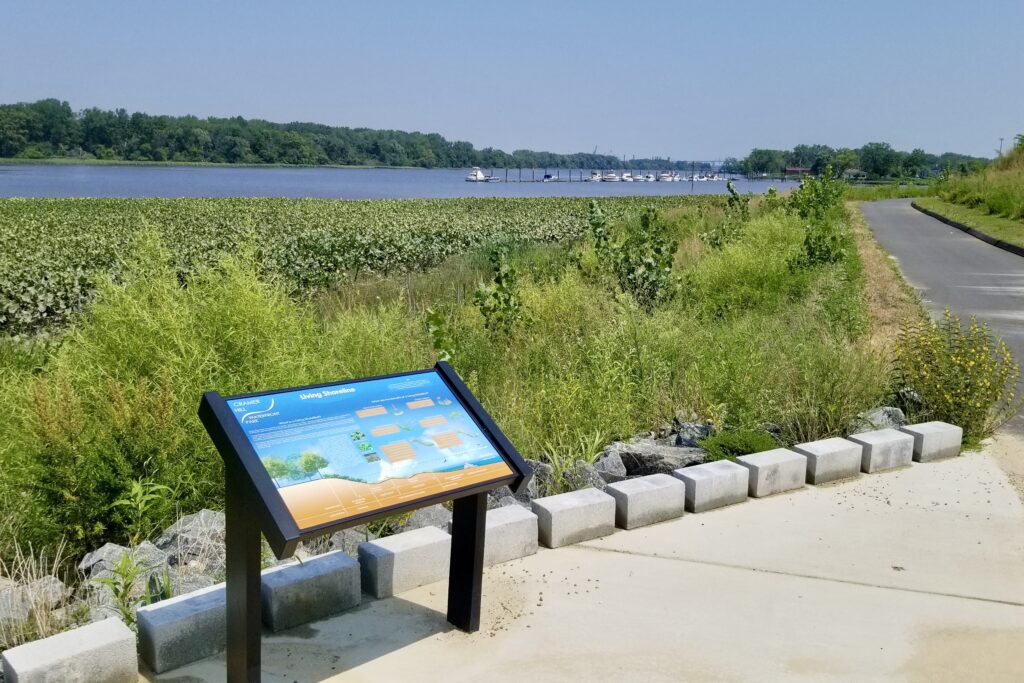 Great Public Space: Cramer Hill Waterfront Park, Camden
What was once a landfill from the 1930s-1970s is now a stunning 62-acre park. Cramer Hill Waterfront Park in Cramer Hill, Camden, offers a variety of attractions and amenities for people of all ages. Located on the confounds of the Delaware and Cooper Rivers, the waterfront park is an ecological hotspot offering residents access to the waterfront for the first time in nearly a century. Wildlife thrives throughout the park, with over 375,000 trees installed throughout the park, along with bald eagle perch poles and basking turtle docks.
As visitors roam the park, they can encounter informational signs that provide educational information about the restoration of the site, the ecological life on site, and the buildings seen when viewing the Philadelphia skyline. A series of paved trails connect throughout the park allowing visitors to bike, run, walk, and take advantage of various exercise stations. Other unique features of the park include a fishing plaza, kayak launch, shoreline access, a children's playground, a grass amphitheater, and plenty of observation areas. Ongoing community activity is always happening in the park, including the community garden, a New-View art installation site, photo tours, and bike tours.
Transforming the park not only rid the neighborhood of an eyesore but ultimately helped with other issues, such as illegal dumping, flooding, and crime in the Cramer Hill neighborhood, while helping the more significant effort to clean the Delaware River. Ultimately, Cramer Hill Waterfront Park exemplifies the importance of equitable and inclusive access to the city's most incredible natural asset – its waterways. This generational project would not have been possible without the nearly twenty-year commitment from all levels of government to these residents. It is a true example of a public and private partnership that involves authentic community outreach and environmental justice at its core.

Great Public Space: South Branch Preserve, Mt. Olive Township
In 2010, The Land Conservancy of New Jersey began working with six partners to acquire the headwaters of the South Branch of the Raritan River in Mount Olive Township, Morris County. This area is critical as it provides clean drinking water to 1.5 million New Jersey residents. When none of the partners expressed an interest in owning and managing the properties, The Land Conservancy agreed to take title to the property and named it the South Branch Preserve, which features 400 acres today.
Highlights include installing a deer fence around 37 acres and planting more than 7,000 native trees, restoration to native wildflower meadows to provide habitat to declining pollinator species such as the Monarch Butterfly, and converting land into an organic farm which features a partnership with City Green, a nonprofit that offers equitable access to healthy food while promoting environmental stewardship and ecologically sustainable communities.
The 145-plot Community Garden at South Branch is a prime example of how the preservation of public lands can offer people the chance to grow their produce and flowers and provides opportunities for education, gardening, and picnicking within a bountiful and resilient ecosystem. Partnering with City Green, gardeners donate weekly to the local food pantry in Mt. Olive.
The South Branch Preserve has become a hub for outdoor community activities. In 2020, The Conservancy installed a horseshoe pit and land art station where visitors can make art from native materials found at the Preserve. Picnic benches have also been installed as well as a 1.5-mile hiking trail.
For their efforts, The Land Conservancy received an Environmental Quality Award from the U.S. Environmental Protection Agency for this restoration work, marking the first time a housing subdivision had been restored to its native habitat in New Jersey.
---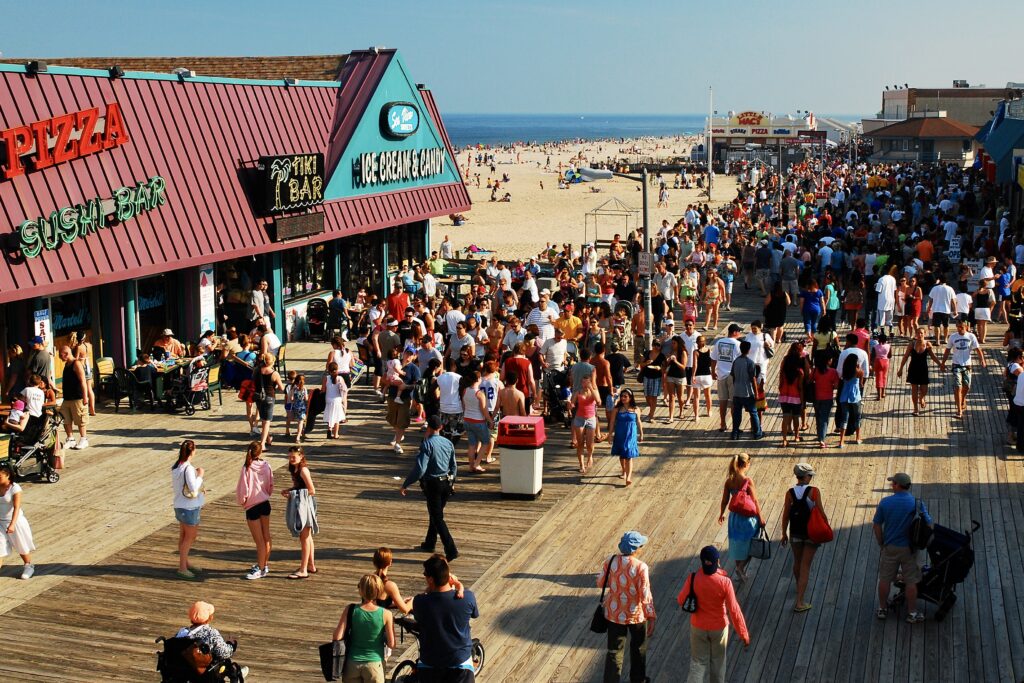 Great Public Space: Point Pleasant Beach Boardwalk
The Point Pleasant Beach Boardwalk, or "the boardwalk" as it is known to locals, has been a historic attraction for Point Pleasant Beach for generations. As all great public places do, it has evolved over time to respond to the needs of the population it serves and the environment in which it exists.
Today, the current one-mile-long boardwalk is well-known for its Jersey Shore nightlife and attractions: bars, dance clubs, live music, restaurants, amusement rides, video arcades, games of chance, and a myriad of boardwalk gastronomic specialties from saltwater taffy, ice cream, and sweets to pizza, sausage sandwiches, and seafood. The boardwalk is also home to Jenkinson's Aquarium, which is dedicated to public education on all aspects of marine life and conservation and rehabilitation, mainly focusing on local species.
The boardwalk is host to many events throughout the year, such as the nation's fourth largest "Making Strides of Point Pleasant Beach" breast cancer awareness walk, the Alzheimer's Walk, and, this past April, "Point Beach Cares: A Concert for Ukraine" which raised roughly $200,000 for Ukrainian aid. Local organizations use the boardwalk for fundraising and hosting photo ops or press conferences; local schools often use the boardwalk as a class trip destination, and the boardwalk is where many local kids earn their first paycheck.
Like the people who have grown up with the boardwalk, it is a resilient place. It has bounced back from hurricanes, fires, and other disasters. Initially surfaced with wood planks, the boardwalk was replaced by a composite material that now offers an even, level walking surface to accommodate all levels of mobility. The boardwalk allows all people access to the beautiful, wide beaches of Point Pleasant Beach, including twelve ADA-accessible public entrances to residents, visitors, and guests.