Neshanic Station is a 112-acre, unincorporated community in Branchburg Township, Somerset County, New Jersey. Fittingly named from the Algonquin meaning of "double stream", the historic village is uniquely positioned to allow for leisure and recreation opportunities along the Raritan River.
The village of Neshanic Station consists of Maple Avenue, Fairview Drive, Olive Street, Pearl Street, Elm Street, Main Street, Marshall Street and Woodfern Road, bordered by open space, agricultural lands, and the Raritan River to its north, south and east. On February 8, 2016, Neshanic Station was added to the National Register of Historic Places, aptly named the Neshanic Valley Historic District.
Of particular value and interest is the use of green space and recreation in Neshanic Station including a parking area and boat launch, which is now frequently used by residents and visitors. Municipal trails along the Raritan River are hot spots for fishing and kayaking. The changes in elevation, along with the historic destinations and beautiful vistas are prime miles for hikers and bikers alike. Branchburg Township is also home to the County-owned, 27-hole Neshanic Valley Golf Courses, recently ranked one of the top 50 municipal golf courses in the United States as well as a Certified Cooperative Sanctuary from Audubon International.
Many events and activities are held to celebrate the unique values of Neshanic Station including parades and historic walking tours. In April of 2020, the community also held a Poster Contest to celebrate its 175thAnniversary. Engagement of residents in civic life include but are not limited to the Branchburg Friends of Open Space and the Neshanic Station Historical Society.
Lastly but maybe most importantly, Branchburg Township has demonstrated its commitment to preserving and enhancing the character of Neshanic Station through its strategic planning and zoning. The Village Residential (VR) District has been adopted to ensure development is consistent with the character and scale of the village, while Village Business (VB) District has been developed to provide for commercial uses which historically existing in the village while allowing opportunities for commercial uses compatible with the character of the community.
Neshanic Station is an utterly unique and great neighborhood in New Jersey that provides residents and visitors with the daily access they need to survive in a setting that offers the recreation and respite they need to thrive. This village is model for areas in a very densely populated State who want to offer their residents the physical and mental health amenities that are available through the natural resources that only Neshanic Station can offer.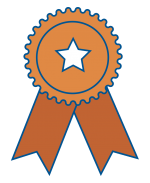 Great Neighborhood
2020 Designee
Branchburg Township