Hamilton Park's namesake Victorian-era park creates the central gathering place for residents of the neighborhood. Intact rows of single-family brownstones surround the park and line many of the neighborhood streets. The post-Civil War era brownstones, typically containing 1 to 3 families, now stand aside modern apartment buildings having a variety of unit sizes, which has helped to create a diverse resident base. One of the neighborhood's central pieces is the new mixed-use development housing two buildings that now form an easterly gateway to the Park: the Hamilton Square condominium building, which was built in 2009 having been renovated from the former St. Francis Hospital, and the newly opened Park Francis apartment building. The first-floor restaurants and shops within each building face one another on a cobblestone pedestrian promenade that leads into the park. The pedestrian plaza is always busy with outdoor revelers eating al fresco or listening to music, or just watching people make their way to the park.
The 5.4-acre park has huge shady trees, vast opens spaces for free play, a central gazebo, new playgrounds, and a spray water feature. The recently restored tennis courts are always in use, and the regulation basketball court, complete with bleachers, electronic scoreboards, and timed lighting is used by residents near and far, as well as competitive youth leagues. The Victorian style lampposts, a fountain, meandering walkways, a dog run, and attractive landscaping, curtesy of the volunteers of the Hamilton Park Conservancy, add to the charm of the park.
An abundance of restaurants and eateries are scattered throughout the neighborhood and draw in hungry visitors as they dole out Cuban, Italian, Indian, Korean, Vietnamese, and American fare. Settings vary from cozy café to neighborhood pub to upscale dining. Outdoor cafes dot the neighborhood and live music serenades passersby. Along with easy access to restaurants and pubs, many day-to-day needs can be met without ever leaving the Hamilton Park Neighborhood. Residents benefit from neighborhood pharmacies, hair salons, gyms and fitness studios, wine and liquor stores, a laundromat, and even a self-storage facility- a great benefit to apartment dwellers that love their neighborhood, but could use a little extra space to store their off-season sporting goods.
Residents and visitors can walk to the neighborhood's multiple churches and religious houses, a City library branch, several preschools, an elementary school (Rafael De J Cordero), and a High School (McNair). The Jersey City Art School, which looks out onto the Park, has a regular schedule of adult classes along with special activities that draw in residents for social art events; while the Church just next door has a community theater in its basement that showcases local talent in quirky theatrical productions. Healthcare options in the neighborhood include pediatric care, obstetrics, short-term rehabilitation, and long-term care/assisted living. Another neighborhood staple is the Brunswick Center, which focuses on improving mental and physical health and wellness with at least 13 small business that offer kickboxing, cycling, ballet, ballroom dance, pilates, therapeutics, art galleries, and more.
To access multiple grocery stores and the big-box retailers usually typical only of car-centric suburban towns, Hamilton Park Neighborhood residents can easily make the 10-15 walk just outside of the neighborhood boundaries. This proximity enables the unique benefit of living in a quiet, walkable neighborhood, yet being able to walk to the Home Depot, Best Buy, Bed Bath & Beyond, Target, and even a destination shopping mall.
The city street grid pattern makes it easy to navigate the neighborhood and beyond, and to keep vehicle traffic speeds at a minimum. All of the neighborhood's streets are narrow, one-way streets with on-street parking, except for Jersey Avenue (north-south) and 10th Street (east-west) which function as two-way streets with on-street parking. On most mornings, the neighborhood is abuzz with adults and children walking, biking or scootering to work, school or other daily destinations. Many of the streets have bike lanes and residents take advantage of renting bikes at the neighborhood's CitiBike docking stations, granting fast access to Jersey City's City-wide bike share system. To ensure traffic is controlled and safe, engaged residents advocate City Officials for- and often receive- traffic control devices installed throughout the neighborhood, including stop signs, speed humps, and other pedestrian safety measures. Hamilton Park residents can access either the Grove Street or Newport PATH stations, or the Newport Light Rail Station, as all are approximately a 10 minute walk from the Park.
There are various active citizen organizations that bring Hamilton Park Neighborhood residents together for causes, events, and to create a sense of community. The organization with the largest membership and widest reach is the Hamilton Park Neighborhood Association (HPNA), whose stated mission is to "serve the interests and needs of residents by promoting a cleaner and safer neighborhood, uniting residents in common causes, cooperating with city government, acting as a sounding board for the opinions of residents, representing local residents at city meetings, and serving the interests of the citizenry of downtown Jersey City." While the HPNA is extremely engaged in each of these areas, they are perhaps best known and loved for the numerous events they organize throughout the year- such as a Shakespeare in the Park series, a Movies in the Park series, a weekly Farmers Market (June – October), the Hamilton Park Festival, Easter Egg Hunt, and children's Halloween Costume Parade (and a dog costume parade!). Other events such as the Youth Festival in June (by JC Families) to the Hamilton Park BBQ festival in September (by Silverman Developers) add to the neighborhood's full calendar of events. Residents can get involved on an HPNA Committee, or with organizations such as the Embankment Coalition or the Hamilton Park Conservancy, or simply attend any number of community meetings, block parties, workshops or networking events happening throughout the year.
There is hardly a week that goes by, without some opportunity to spend time with neighbors at a social event or simply wander around the Historic Hamilton Park Neighborhood to enjoy its all-season beauty and splendor.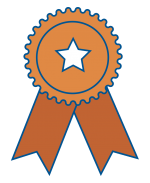 Great Neighborhood
2018 Designee
Jersey City