East Millstone is a 2.296-square mile census designated place in Franklin Township, Somerset County, New Jersey. With a population of nearly 500, this small community has maintained its village character, along with a list of impressive historic resources. Those that live and work in and around Franklin Township visit East Millstone for a glimpse into the past while being able to access the Delaware Raritan Canal, engage in local festivals and events, and recreate passively or actively.
East Millstone is accessed off of Amwell Road, a County road running from Branchburg Township through Franklin in an east-west direction. East Millstone is also in close proximity to Millstone River Road, a major County road today and frequently traveled during the Revolutionary War. Once you are in East Millstone, the choices for transportation are multimodal. The narrow streets allow for safe vehicular and pedestrian travel. Many cyclists enjoy the winding roads and hills in East Millstone, ultimately leading to the Delaware and Raritan Canal which is used by visitors for walking, running, dog walking, bicycling, fishing, kayaking, and more.
In 1983, East Millstone was added to the New Jersey Register of Historic Places, aptly named the East Millstone Historic District (ID #83001613). East Millstone is a unique community within Franklin Township offering historic sites, recreation, shopping, interesting housing stock, and safe and multimodal transportation options to its residents and visitors. It has a rich history of commerce and recreation, with a promising future for unique living and sense of place.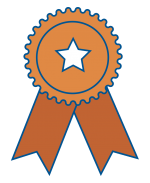 Great Neighborhood
2019 Designee
Franklin Township