Great Downtown: Downtown Summit
Downtown Summit has been a busy hub for commerce since the mid-19th century, when the first train climbed "the summit" and linked this beautiful community to Manhattan. Situated in the center of Summit's 6 square miles, this pedestrian and bike-friendly downtown provides residents and visitors alike with everything they might need or want.
Visitors can find fine dining, casual eating or quick takeout with every tastebud easily satisfied by the wide array of cuisines offered by Summit's restaurants. Personal services are also provided by small business owners including shoe repair, tailors, dog care, personal salons and spas, bakers, cheese mongers and more.
Unique fashions and accessories are available with high quality selections from Lululemon, J. McLaughlin, Willow Street, and Alba among the many smaller shops and boutiques. Strolling along downtown Summit's quaint streets, one finds gift boutiques, children's clothing and toys intermingled with gourmet and wine shops to fit every need. Summit even has a locally owned candy store where schoolkids pop in after school to say hi to their favorite hometown business owner. Many of the local business owners regularly give back to the community and the community gives back to them.
Adding to the wonderful mix of businesses in downtown Summit is the work of Summit Downtown, Inc. (SDI) which manages the day-to-day operations of the downtown and consistently markets the city. SDI offers a Summit VISA Gift Card accepted by over 100 Summit businesses and holds downtown events that attract residents and visitors alike.
Downtown Summit has returned residents and visitors to the days when downtowns were the hub of the community. And the beauty, walkability, vitality, events, and mix of businesses are the reason Downtown Summit is worthy of a Great Places in New Jersey award.
---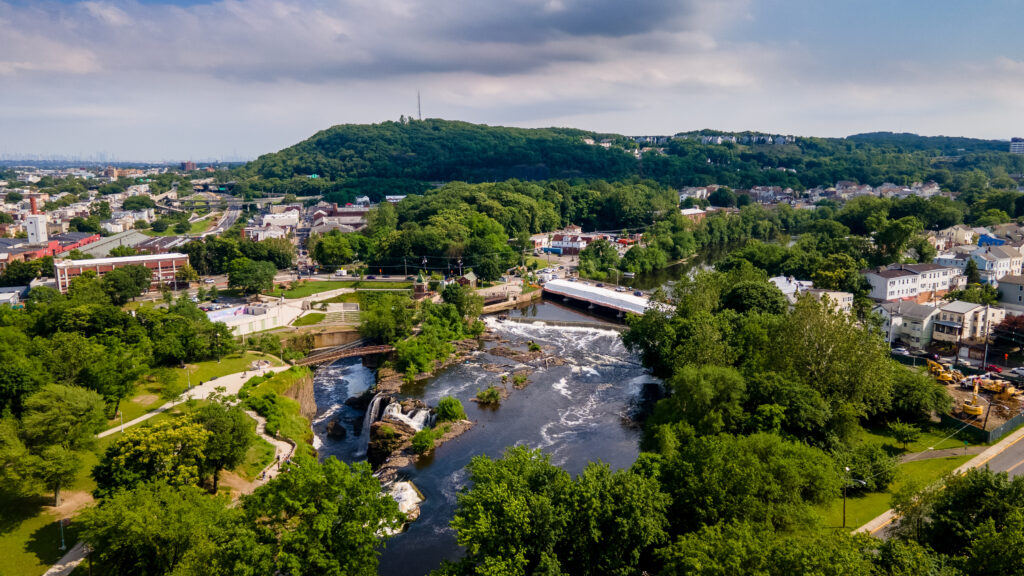 Great Public Space: Paterson Great Falls
Paterson enjoys a unique and distinguished history as America's first planned industrial city. It owes its existence to the far-reaching vision of Alexander Hamilton, one of America's most important founders and visionaries of our governmental and financial institutions. Hamilton envisioned Paterson, with its waterpower provided by the Great Falls of the Passaic River, as America's counterpart and response to the industrial revolution occurring in England during the same period, when America was a fledgling nation. Industries that took off included cotton fabrics, railroad locomotives, textile machinery, jute, and silk spinning, weaving, and dyeing, among many others.
The Great Falls Historic Landmark District was established in 1976 to protect and recognize these industrial origins and development of the city in the area immediately around the Great Falls. In the decades that followed, through the ongoing efforts and foresight to preserve the district for future generations, in 2009 the area was formally authorized by Congress and President Obama as the Paterson Great Falls National Historical Park (GFNP).
Since then, many partnerships have made it possible for the steady stream of public investments and collaborations that have resulted in tens of millions of public dollars available for environmental cleanup and park improvements on several areas around the falls. By the end of 2023, a new visitor's center, parking deck and a unique, 7,000-seat historic stadium will be completed as additional amenities where activities and food services will be available.
Aside from its deep-rooted cultural legacy, the Great Falls is also a tremendously beautiful natural place that has attracted people for recreational, spiritual and enjoyment purposes for thousands of years, and still does. It is a unique geological place as well and enjoys the status of a National Natural Landmark designation.
---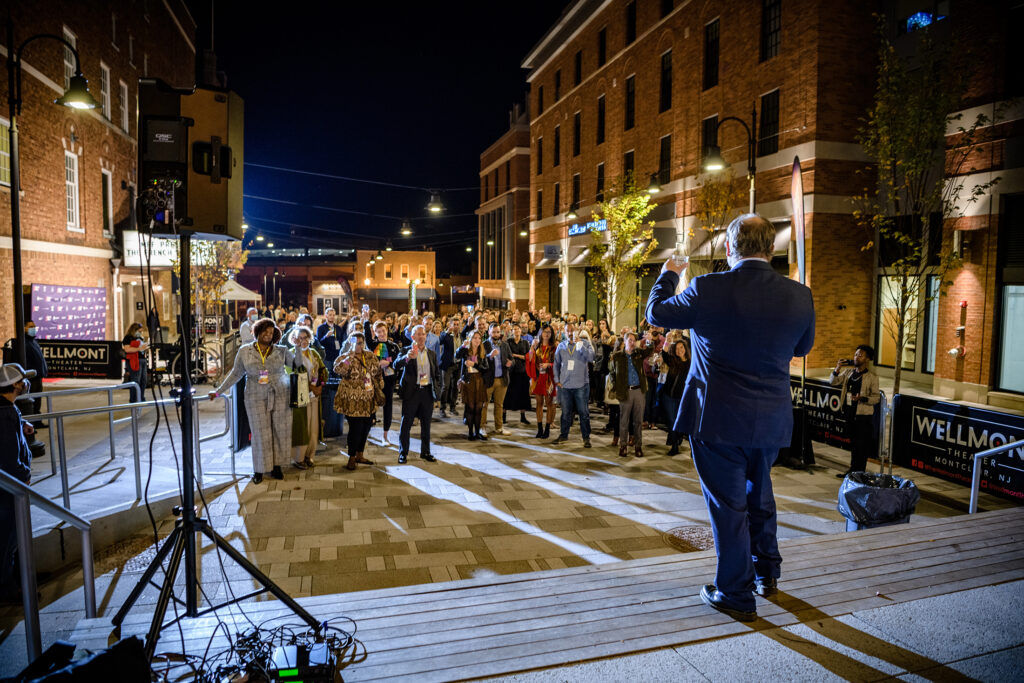 Great Public Space: Wellmont Arts Plaza, Montclair
The Wellmont Arts Plaza came about through a comprehensive redevelopment process as described in the Seymour Street Redevelopment Plan which facilitated a well-designed and successful arts and entertainment destination that respects the context and character of adjacent areas through appropriate building massing and high-quality urban design.
The destination, located on 2.5 acres, also brings Montclair two new mixed-use buildings with commercial spaces that straddle the new 14,000 SF programmable pedestrian arts plaza. This pedestrian plaza is anchored by the Wellmont Theater which supports the creation of the 'arts district'. The space is so popular that it has instantly become the new town center.
The Wellmont Arts Plaza features sculptural entry walls, overhead catenary lighting, and a unique "performance stair" which compliments the extensive landscaping and plays host to a variety of programmable uses such as outdoor dining, open-air performances, and shopping. A perfect placemaking example, this new pedestrian plaza transformed an underutilized public street into an even larger cultural destination and created a public space that promotes people's health, happiness, and well-being. Complete with an open-air performing space, this will be a hub for local creatives to share their art. Pedestrians can gather without the intrusion of vehicles, and this consequentially spurs neighborhood interactions, heightens pedestrian safety, encourages walking, and in this case, dancing.
The diverse mix of uses will ensure the Wellmont Arts Plaza will be active day and night. The public plaza and art strengthen its "sense of place". The neighborhood's beacon, The Wellmont Theater, activates this redevelopment area every day of the week thus impacting local businesses. The new building's modern design elements provide a contextual transition linking the new development with the established neighborhood and fortifies the vibrant arts and entertainment scene of Montclair.

Great Public Space: Duke Farms, Hillsborough Township
Duke Farms is the magnificent 2,700-acre property created by James Buchanan Duke, a prominent industrial entrepreneur of the late -19th and early -20th centuries and benefactor of Duke University. A large portion of the land was assembled and developed by Duke, beginning in 1893, and was added to and cared for by his sole heir and daughter, Doris Duke, throughout her lifetime.
Since re-opening almost 10 years ago, Duke Farms welcomes over 150,000 visitors per year who describe the public space as "a hidden gem," "amazing," "a magnificent treasure," and "a fantastic nature preserve in the heart of New Jersey that's very accessible and free."
The property is essentially divided into two sections: the agricultural and ecological working lands, which host both habitat for wildlife and food production, and the cultural core.
The working lands have been actively managed through ecological restoration and regenerative farming to support wildlife and food production. There is a native plant and tree nursery that cultivates several hundreds of thousands of plants to supply large scale ecological restoration efforts. The farm operation consists of a 100-head cattle operation co-existing with endangered grassland birds and produces beef, pastured chickens, and vegetable production to supply the onsite Farm-to-Fork Café.
The cultural core welcomes visitors to the 22,000 square foot USGBC LEED Platinum Orientation Center and a Green Restaurant Association 4-Star Farm-to-Fork Café serving healthy, sustainable, locally produced food. Twenty miles of onsite trails offer a mix of wide historic roads and natural trails, allowing for people to experience the property in their own way, and without the fear of vehicular traffic.
Duke Farms strives to provide a high quality, best in class experience for visitors who know that this place is different, special, and an extraordinary experience.
---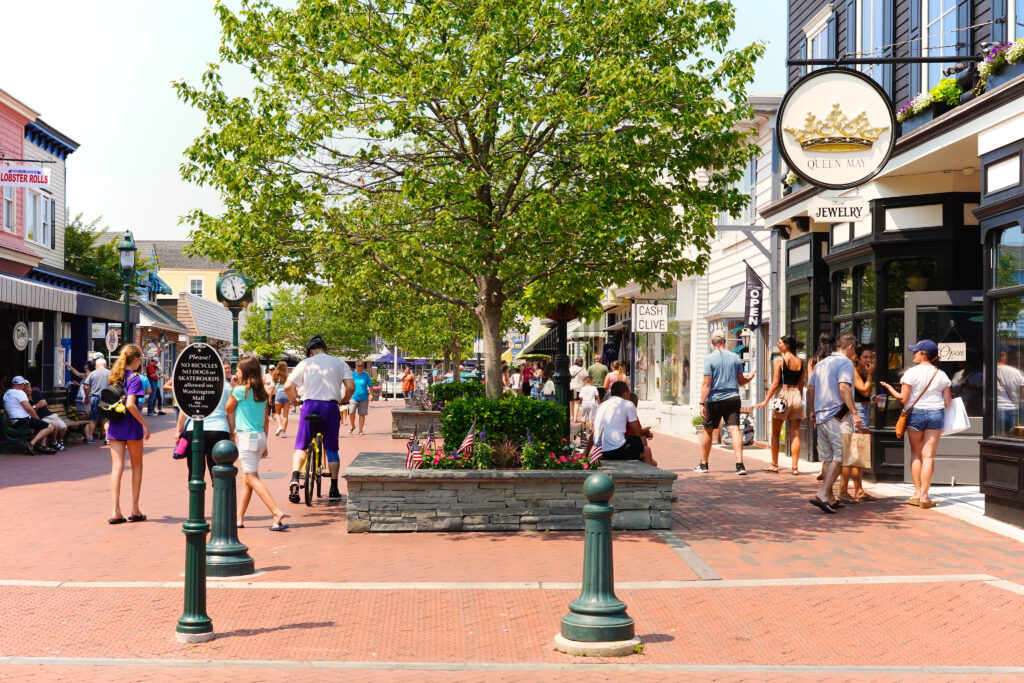 Great Public Space: Washington Street Mall, Cape May
The picturesque Washington Street Mall is the heart of Cape May, New Jersey, America's original seaside resort. The Mall serves as Cape May's town square, a gathering point for visitors to the resort town, as well as those who call the area home. There are over 75 establishments lining the Washington Street Mall, made up of unique boutiques, shops, fine dining restaurants, bars, quick eats, activities, and services. Numerous seating areas, luscious gardens, shady trees, historical markers, Instagram-worthy photo opportunities, and more make it a welcoming and inviting downtown attraction for all.
Dedicated June 24th, 1971, the Mall was a construction project of the City of Cape May's Urban Renewal Program, which took place from 1965 to 1971. The purpose of the program was to turn the heart of Cape May into a charming showplace complete with a revitalized downtown street to attract hundreds of thousands of tourists while also improving quality of life for residents as well. In 2008, the Mall received a major renovation, improving the street's character, form, and function.
The Washington Street Mall does a great job of balancing the competing needs of a typical street with that of adjoining land uses. Numerous bicycle racks are located on every block and a "Jitney" shuttle service, with stops at Cape May hotels, neighborhoods, and the beachfront, is another way that people can get to the mall without a vehicle. Streets along the Mall are also set up with well-marked crosswalks and safety features to protect the pedestrian-only areas while the buildings make it a Victorian showplace, with intricate designs and gingerbread-like architecture.
As the picturesque heart of America's original seaside resort, it is one of New Jersey's most popular streets and truly worthy of being designated a "Great Street".