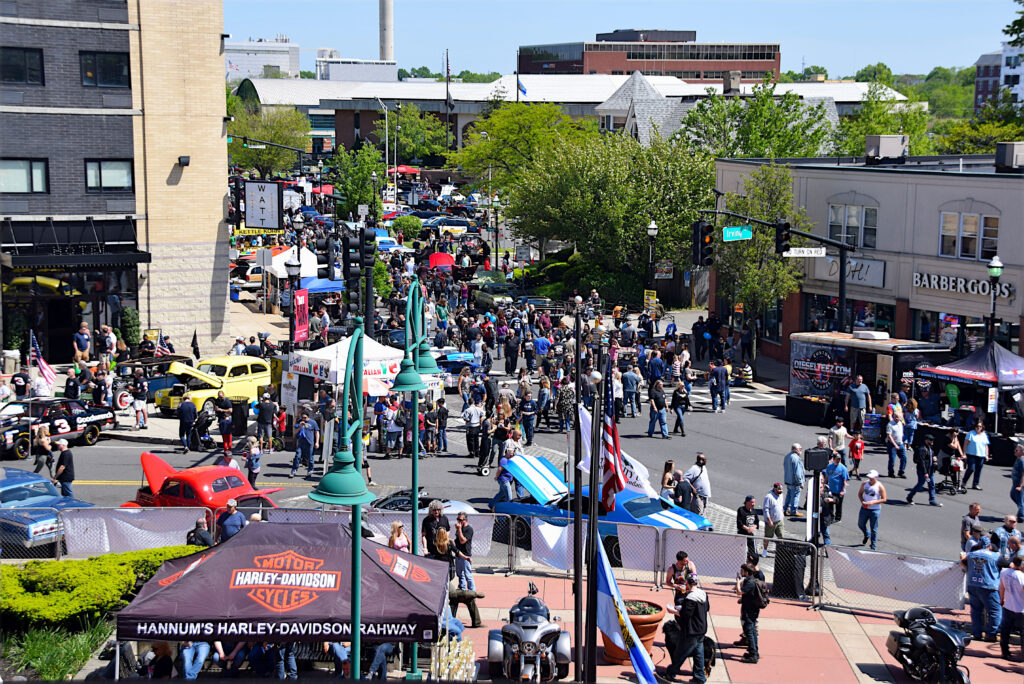 Great Downtown: Downtown Rahway
Downtown Rahway is a great place. It is a place that emphasizes livability, walkability, shopping, food, art, diversity and a destination. Centered in the heart of the bustling City of Rahway, next to the NJ Transit Station, Rahway's downtown is the building block for this diverse city.
The Rahway NJ Transit Station hub offers direct train service to New York City. Building upon this asset, the city adopted the CBD redevelopment plan in 1998 to further promote development and livability for Rahway's downtown. The CBD redevelopment plan acted as the blueprint and guided development, building upon the city's existing transit-oriented development components. This led to new residential development and increased livability. Since 1998 over 1,000 units have been built or are under construction in Downtown Rahway.
Rahway's downtown is an active destination offering diverse cuisines from institutions like Nancy's Townhouse, Luciano's Ristorante, The Waiting Room, Irving Inn, and Cubanu.  The popularity of these staples prompted new gourmet restaurants like Il Forno A Legna and Monchy's Rahway to join the downtown scene. In addition, Rahway's own downtown brewery, Wet Ticket, draws people from all over the tri-state area to come and taste their handcrafted brews. Local coffee shops like The Coffee Box and Melao Cafe & Creamery offer patrons specialty coffee, pastries and more.
If you like to shop, there is RV with hard-to-find vintage sneakers and clothing as well as the Travel Skate Shop where skaters can purchase skateboards, accessories and clothing. For cigars from all over the world, head to Sticks Cigars or browse through a fascinating assortment of antiques and oddities at the Gilded Lillie.
Downtown Rahway's rich art and cultural scene is a big draw for day trippers. The Culture Crawl is a one-day explosion of arts, culture, dance and live music. The streets are lined with musicians, visual and performing artists, film makers, craft artisans and more. This annual event attracts nearly 5,000 people every year. And taking place over the past 20 years, the Taste of Rahway is a food extravaganza with delectable bites and drinks from vendors throughout New Jersey attracting nearly 1,500 people every year. Built in 1928 and restored in the 1980's, the Union County Performing Arts Center is the epicenter of film, dance and theatre performances in Union County with many groups renting the space for performances and drawing people from surrounding towns. And last but not least, art galleries such as Atelier Rosal, The Gallery Space, Times of Grace, and Tabula Rasa combined with murals enliven and color the downtown.
Public spaces and pedestrianism are vital components of Rahway's downtown. The city transformed an unused alley into the walkway known as "The Paseo." This public space has moveable tables and chairs and butterfly wing art which has become an Instagram hot spot.  As a result of the 2019 Covid-19 pandemic, the City created even more public spaces with a portion of E. Cherry, Lewis and Monroe Streets being made into pedestrian-only tented areas with tables and chairs so patrons can dine outdoors. A vacant lot on E. Cherry Street was converted into a public space with tables, chairs and artwork on the walls creating an inviting area to people watch, dine, and drink outside.
---
Great Neighborhood: Neshanic Station, Branchburg Township
Neshanic Station is a 112-acre, unincorporated community in Branchburg Township, Somerset County, New Jersey. Fittingly named from the Algonquin meaning of "double stream", the historic village is uniquely positioned to allow for leisure and recreation opportunities along the Raritan River.
The village of Neshanic Station consists of Maple Avenue, Fairview Drive, Olive Street, Pearl Street, Elm Street, Main Street, Marshall Street and Woodfern Road, bordered by open space, agricultural lands, and the Raritan River to its north, south and east. On February 8, 2016, Neshanic Station was added to the National Register of Historic Places, aptly named the Neshanic Valley Historic District.
Of particular value and interest is the use of green space and recreation in Neshanic Station including a parking area and boat launch, which is now frequently used by residents and visitors. Municipal trails along the Raritan River are hot spots for fishing and kayaking. The changes in elevation, along with the historic destinations and beautiful vistas are prime miles for hikers and bikers alike. Branchburg Township is also home to the County-owned, 27-hole Neshanic Valley Golf Courses, recently ranked one of the top 50 municipal golf courses in the United States as well as a Certified Cooperative Sanctuary from Audubon International.
Many events and activities are held to celebrate the unique values of Neshanic Station including parades and historic walking tours. In April of 2020, the community also held a Poster Contest to celebrate its 175th Anniversary. Engagement of residents in civic life include but are not limited to the Branchburg Friends of Open Space and the Neshanic Station Historical Society.
Lastly but maybe most importantly, Branchburg Township has demonstrated its commitment to preserving and enhancing the character of Neshanic Station through its strategic planning and zoning. The Village Residential (VR) District has been adopted to ensure development is consistent with the character and scale of the village, while Village Business (VB) District has been developed to provide for commercial uses which historically existing in the village while allowing opportunities for commercial uses compatible with the character of the community.
Neshanic Station is an utterly unique and great neighborhood in New Jersey that provides residents and visitors with the daily access they need to survive in a setting that offers the recreation and respite they need to thrive. This village is model for areas in a very densely populated State who want to offer their residents the physical and mental health amenities that are available through the natural resources that only Neshanic Station can offer.

Great Public Space: RiverWinds
As a pristine spot on the Delaware River in West Deptford Township, where residents flock to golf, exercise, and have dinner, RiverWinds has become a premier destination for visitors and residents in South Jersey. Many come to watch the sunset as airplanes soar into the sky across the water.  Few towns along the Delaware River can boast tracts such as RiverWinds in Gloucester County.  At the turn of the century, Township officials embarked on the redevelopment of more than 1,100 acres that would make it all possible – a community center, restaurant, senior housing, and a golf course with a sweeping view of Philadelphia. Not bad for a former dredge spoils dump.
Those redevelopment efforts continue today – balancing the need for great public, open spaces with redevelopment opportunities for new housing and mixed uses.  However, at the forefront of those efforts are the successes of a Great Public Space, known as RiverWinds which features various amenities located on 1,100 sprawling acres.
RiverWinds Community Center: The RiverWinds Community Center is a 110,000 SF multi-functional facility owned by the Township of West Deptford and is operated for the benefit of its residents. The facility is open year-round with amenities and services to benefit individuals of all ages boasting an aquatics center, fitness floors, arts & crafts workshop areas, childcare center, numerous party rooms, senior center with private veranda, an outside amphitheater, and more.
Ron Jaworski's RiverWinds Golf & Tennis Club: This 7,086-yard, par 72 course was designed by architect Ed Shearon and shaped by expert Pete Fazio, of the renowned golfing family. This original course brings world-class golf to the Philadelphia area and has been voted one of the "Best Places to Play" in New Jersey by Golf Week. The Tennis Club boasts an indoor five (5) court facility has received numerous USTA Premier Provider awards, as well as Courier Post #1 Tennis Facility awards.
Scenic Walking Trail (Preserved Open Space): There are numerous walking trails along the perimeter and interior to the complex; however, it is also home to a 1.7 scenic walking trail that spans a multi-use walking path along Riverwinds Drive from Grove Avenue to the banks of Woodbury Creek, which traverses American Bald Eagle habitat – a majestic sight.
The Point & The Cove: At the edge of the Delaware, sits a small, beautiful beach and mariner's cove, providing fantastic views of the City of Brotherly Love (Philadelphia) and the river itself.  It is also home to the Township's kayak launch and makes a great place to eat lunch or just relax by the water to watch many of the area's cargo ships and recreational water vehicles sail by.
RiverWinds Restaurant: According to Zagat Survey, "the phenomenal view of the Delaware River is the draw at this comfortable West Deptford American parked on the edge of the RiverWinds Golf Course, where the seafood-focused menu is quite good as well; courteous service and seasonal alfresco dining enhance the overall upscale picture." All 4 dining rooms, including 2 bars and huge outdoor patio area, are waterfronts offering top-notch views of the city.
RiverWinds Age-Restricted Housing: As part of the original Redevelopment Plan for Riverwinds, housing that provides opportunities to seniors to age in place have been a critical focal point for the Township including 4 existing developments totaling over 600 age-friendly options with more on the way.
Ongoing Redevelopment Efforts: Designated as an Area in Need of Redevelopment since 2000, many of the Township's redevelopment efforts have focused on preserving the high-quality open space and amenities that make RiverWinds such a great public space. However, the Township continues to look to opportunities to create a mixed use community for approximately 60 of the 1,100 acres.
---